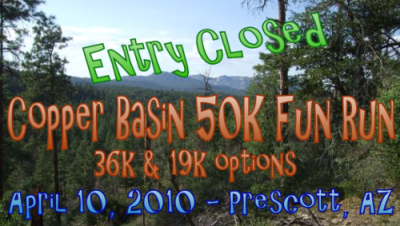 Copper Basin 50K, 36K, & 19K Fun Runs
Thumb Butte Day-Use Area, Prescott, AZ
This will be a no fee (except the $5 per vehicle day-use fee at Thumb Butte parking area), minimally supported fun run on the yet to be completed Prescott Circle Trail. The trail is non-motorized and a mix of pine needle covered single track, old jeep roads, rails-to-trails, and technical mountain bike trail. The full run is approximately 50 km (31.4 miles) in length, but we will offer two shorter options at 19 km (12.0 miles) and 36 km (22.6 miles). This route will be slightly different than the
first version
of the Copper Basin run held in October of 2009
There will be two water only aid stations and two aid stations with food and water. The furthest distance between any sort of aid will be 6 miles. The course will be marked with orange ribbon and flagging for the correct route and blue flagging for the incorrect route. All runners are encouraged to carry at least one bottle of water and a provided course map/turn sheet.
Start/Finish line is located at the Thumb Butte Day-Use Area. Coming into town from the east on Highway 69, continue on Gurly street until it turns into Thumb Butte. Continue 2 miles up the road to the picnic area on the right.
Please
RSVP
if you plan on attending. Limited to 60 runners.